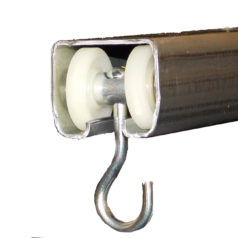 2-Wheel Nylon Roller Hooks
Make for easy sliding and folding of the curtain. 2-wheel steel roller hooks are available for large curtain systems.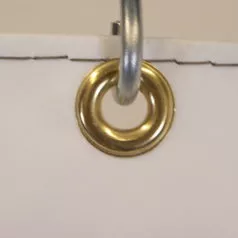 #2 Toothed Brass Grommets
#2 Brass Toothed Grommets are spaced every 12″ on center of the curtains to hang securely on the roller hooks.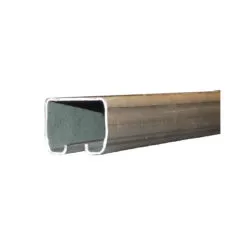 Galvanized Steel Roller Track
Heavy-Duty 16 gage roller track system which modularly connects track lengths to your desired shape and length. (Dim – O.D. – H-1.25″ x W-1.44″)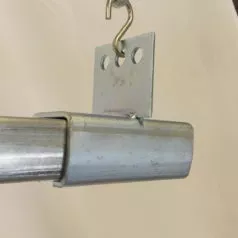 Track Mounting Hardware
5 Different Mounting Options Available Including Universal Mount to use in place for Beam to Chain, Threaded Rod, and Wall Mount. (See Mounting & Hardware)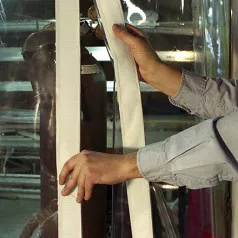 Velcro Attachments
2″ Velcro side attachments easily seal and attach both sides of curtains to multiple curtains. Available in standard 2 x 1′ swatches, full length, or custom.
Chain Weighted Hem
Heavy-Duty 3/16 in Thick Galvanized Chain inserted into the bottom pocket to stabilize the curtain against drafts.
Work-View Clear Window
20 Mil PVC Window – Flame resistant & double polished for a clear view of workers and operations. Meets CFM, & NFPA-701 standards. (Optional)
Heat Welded Interior Seams
Interior Seams are electronically welded with RF Bar Sealers for an extra tough resistance to tears. Outer Hems are sewn with a heavy-duty double-lock stitched nylon thread.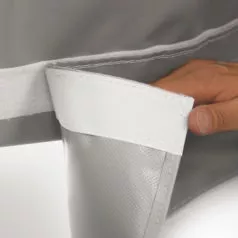 Floor Sweeps (Add-On)
Vinyl Floor Sweep – Sewn on or Velcro Option – Seals bottom 1″ gap to seal off dust, dirt, & contaminants.
Part# CA 300 – Sewn On Part# CA 299 – Velcro
Floor Mount D Ring Attachments (Add-On)
Floor Mount D-Rings – Included with strap and buckle. Fastens the curtain system to floor against wind & updrafts
Part# CA 101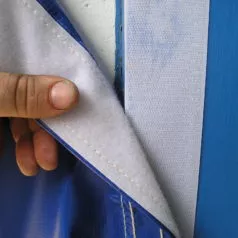 Adhesive Velcro (Add-On)
2 inch Adhesive Velcro – Attaches any curtain to a brick, metal, concrete, or wood wall or door opening.
Part# CA 677 – 2″ PSA Loop Part# CA 694 – 2″ PSA Hook
Valance Panels (Add-On)
Upper Stationary Curtain Panels – Custom made to Ceiling Design -Ideal when the top half of an area does not need to be opened and contaminants need to be sealed off.
Part# CA 655
Strip Curtain Walk Through (Add-On)
Equip your curtain with the flexibility to walk-through without opening your entire system. Can be equipped for Man or Forklift Traffic
Part# CA 900
Filter Panels (Add-On)
Replaceable Filter panels to keep negative pressure & fresh air generated inside of the curtain enclosure for plenum ventilation systems.
Part# CA 850