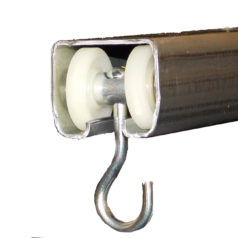 2-Wheel Nylon Roller Hooks
Make sliding and folding of the curtain a cinch. 2-wheel steel roller hooks are available for tall curtain systems.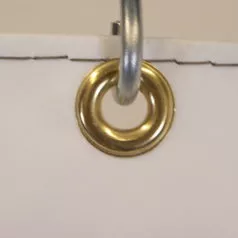 #2 Toothed Brass Grommets
#2 Brass Toothed Grommets are spaced every 12 in. on center of the curtains to hang securely on the roller hooks.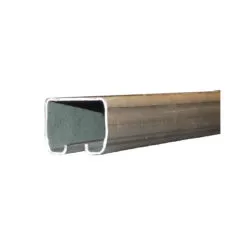 Galvanized Steel Roller Track
Heavy-Duty 16 gage roller track system which modularly connects track lengths to your desired length and shape. (Dim – O.D. – H-1.25″ x W-1.44″)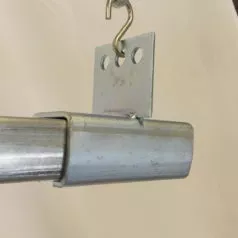 Track Mounting Hardware
5 Different Mounting Options Available. Including a Universal Mount to use in place for Beam to Chain, Threaded Rod, and Wall Mount. (See Mounting & Hardware)
Velcro Attachments
2 in. Velcro side attachments easily seal and attach both sides of curtains to multiple curtains. Available in standard 2ft x 1ft swatches, full length, or custom.
Chain Weighted Hem
Heavy-Duty 3/16 in Thick Galvanized Chain inserted into the bottom pocket to stabilize the curtain against wind & drafts.
Weld-View Tinted Window
14 Mil Tinted Transparent PVC Window. Blocks Harmful UV Flash from Arc, Stick, & Other Welding Applications. Available in Yellow, Orange, Blue, & Dark Green. See Welding Partition Wall Materials for More Info.
Heat Welded Interior Seams
Interior Seams are Electronically welded with RF Bar Sealers for an Extra tough resistance to tears. Outer Hems are sewn with a heavy-duty double-lock stitched nylon thread.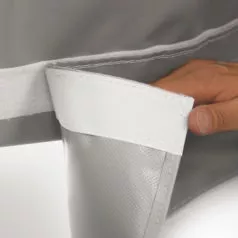 Vinyl Floor Sweep (Add-On)
Vinyl Floor Sweep – Sewn-on or Velcro Option – Seals bottom 1″ gap to seal off dust, dirt, & contaminants.
Part# CA 300 – Sewn On Part# CA 299 – Velcro
Floor Mount D Ring Attachments (Add-On)
Floor Mount D-Rings – Included with strap and buckle. Fastens the curtain to the floor protecting against wind & updrafts
Part# CA 101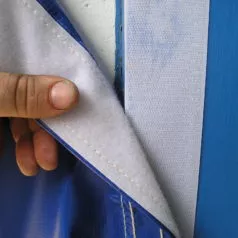 Adhesive Velcro (Add-On)
2 inch Adhesive Velcro – Attaches any curtain to a brick, metal, concrete, or wood wall or door opening.
Part# CA 677 – 2″ PSA Loop Part# CA 694 – 2″ PSA Hook
Weld Strip Curtain Walk-Through (Add-On)
Equip your curtain with the flexibility to walk out of Welding Cells without opening your entire curtain system. Available in Bronze, Orange, or Blue.
Part# CA 900
Magnet Attachments (Add-On)
2 in. Magnets Attachments provide a quick and easy attaching and un-attaching of multiple curtains.
Part # CA 550 – Sew On<br>Part # CA 551 – Adhesive PSA