18 oz Coated Vinyl FR
18 oz Coated Vinyl – Our heavy duty coated vinyl with excellent abrasion resistance. Used best in for its lower temperature resistance to -40F. < See Opaque Vinyl Materials Here >
Energy Shield Insulated Materials
Energy Shield Materials – As an Option for Warehouses with Multiple Sides Covered or a Taller Sides that Need a Higher R-Value to Maintain Comfortable Temperatures. 2 layers of 18 oz coated vinyl sandwiched around 1, 2, or 4 Layers of 3M Thinsulate Ultra. R Values Range from R-3, R-6, and R-9.
40 MIl Work-View Window (Optional)
40 Mil PVC Window – Flame resistant & double polished for a clear view of workers and operations. Meets CFM, & NFPA-701 standards. (Optional)
Webbing Reinforcement - Heat Welded
1″ Electronically sealed webbing is set every 4′ vertically and every 6′ horizontally to add extra toughness and resistance to the elements.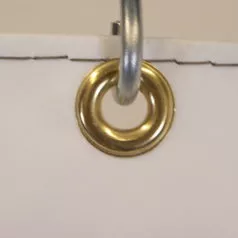 #2 Brass Grommets
#2 Brass Toothed Grommets are spaced every 12″ on center of the curtains to hang securely on the roller hooks.
Velcro Attachments
2″ Velcro side attachments easily seal and attach both sides of curtains to multiple curtains. Available in standard 2′ swatches, full length or custom.
Chain Weighted Hem
Heavy-Duty 3/16″ Galvanized Chain inserted into the 4″ bottom pocket to stabilize the curtain against drafts.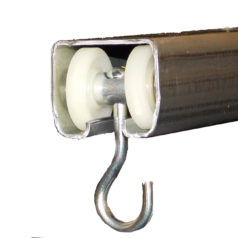 2-Wheel Nylon & Steel Rollers
Make for easy sliding and folding of the curtain. 2-wheel steel roller hooks are available for large curtain systems.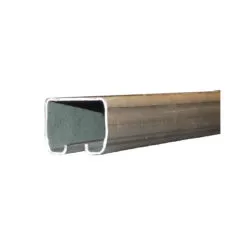 Roller Track System
Heavy-Duty 16 gage roller track system which modularly connects track lenghts to your desired shape and length. (Dimension O.D. – H-1.25″ x W-1.44″) Available in Suspended Mounts – Threaded Rod or Beam to Chain, Ceiling, Floor Mount, and Beam Flange Mount. See Hardware Options Here.
Valance Panels (Add-On)
Upper Stationary Curtain Panels – Custom made to Your Ceiling Design -Ideal when the top half of an area does not need to be opened & contaminants need to be sealed off. Used When doing a Suspended Mount on the Outdoor Curtains
Part# CA 655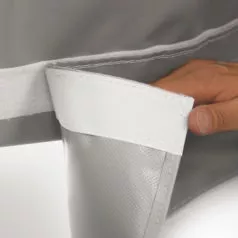 Vinyl Floor Sweep – Sewn-on or Velcro Option – Seals bottom 1″ gap to seal off dust, dirt, & contaminants.
Part# CA 300 – Sewn On
Part# CA 299 – Velcro
Floor Mount D Ring Attachments (Add-On)
Floor Mount D-Rings – Included with strap and buckle. Fastens the curtain to the floor protecting against wind & updrafts
Part# CA 101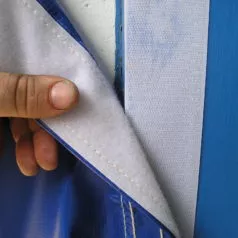 Adhesive Velcro (Add-On)
2 inch Adhesive Velcro – Attaches any curtain to a brick, metal, concrete, or wood wall or door opening.
Part# CA 677 – 2″ PSA Loop
Part# CA 694 – 2″ PSA Hook